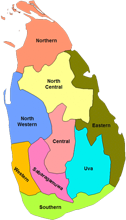 Sri Lanka


Some authoritative endorsements about Sri Lanka

Sri Lanka is located in the southern tip of India and has a rich documented history and cultural heritage that spans over three thousand years. It is a tiny tear shaped island which is truly a "Gem" and known as the "Pearl of the Indian Ocean". Centuries ago traders from the Middle East & the West braved the seas to come to our resplendent land which was once known as "Spice Island" and "Land of Gems".

Its geographic location and deep harbours made it of great strategic importance from the time of the ancient Silk Road. The country was known by many names such as "Serendib", "Taprobane", "Saylan", "Tambapanni" etc. and great explorers such as Marco Polo refers to Sri Lanka as the "Jade Pendant in the Indian Ocean" and "The finest island of its size in the entire world". He also wrote about the wonderful gems of Ceylon. King Solomon was said to have procured a great ruby for the Queen of Sheba from Ceylon.
Ibn Battutah, a great traveller once wrote about our Home: "The whole of its coasts are covered with branches of cinnamon trees brought down by torrents & heaped up like mounds on the shore. They are taken without payment by the people of Ma'bar & Mulaibar, but in return for this they give presents of woven cloth & similar articles..."



Similarly, we have so much to offer our guests...



Lonely Plant - Sri Lanka is one of the best to travel in 2013 among
global tourism destinations.


The National Geographic Channel - Sri Lanka has been rated as the
2nd best island tourist destination on earth.


British Airways - Sri Lanka has topped the 13 destinations
categorized as popular favorite places to visit in 2013.




Warning
: session_start(): Cannot send session cookie - headers already sent by (output started at /home/tatbooking/public_html/about-sl.php:99) in
/home/tatbooking/public_html/country-footer.php
on line
2
Warning
: session_start(): Cannot send session cache limiter - headers already sent (output started at /home/tatbooking/public_html/about-sl.php:99) in
/home/tatbooking/public_html/country-footer.php
on line
2
Go to Sri Lanka Thailand Singapore
Copyright 2013 tatbooking.com - All rights reserved | Design by AYSEL