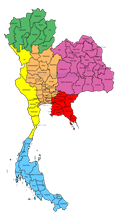 ABOUT THAILAND
Visitors to Thailand will discover a country in transition from a nation of developing status, to one of international standing in many areas. This is what makes Thailand such a great place to visit. Thailand has a rich cultural background, incredible diversity and a climate suitable for travel almost year round. In fact Bangkok is rapidly becoming a centre for business within South East Asia, due to its geographic location, but also due to the fact that Thailand has a stable political system and a strong economy.
To complement Thailand's cultural and geographical attributes, is an increasingly modern and already efficient infrastructure. The system of highways, lesser roads and railways is fantastic and as good as any country. Domestic flights in Thailand are all quite short so flying between centres or even around the region, is definitely an option.
Thailand is the perfect destination, whether it is purely for leisure, business or as an incentive destination. Visitors to Thailand will discover a friendly, refreshing, safe and beautiful country.
Land of Smiles
If you ask any person who has visited Thailand, what it is that they loved about the country? Many people would say it is the friendly people who make for such a good experience. Thai people are known for their friendly smiles, natural grace and kindness which is probably why so many people return to Thailand for their holidays time after time.
TRAVELLING IN THAILAND
Visitors to Thailand will discover a land of contrasts between old and new, modern and ancient. To illustrate this point it would be adequate to say that there seems to be an appropriate form of transport for almost every situation in Thailand wherever one travels.
Getting around Bangkok
For example, to wiz across Bangkok to a dazzling shopping mall where glitz is the order of the day, you can jump on the Skytrain or go underground to the subway to travel in air conditioned comfort in the most modern of conveyances. Alternatively if you need to explore some of the older areas in Bangkok you may be whisked away at speed in a long tail boat powered by huge engines to venture into Thonburi canals where stilted houses line the waterways and kids frolic in the water still in scenes from days gone by.
Going further
Moving further afield across Thailand is easy as the main tourist areas are well serviced by air, road and often rail. There is a choice of service for everyone depending on time and budget. Thailand's provincial airports are all around one hours flying time from Bangkok making it convenient and time effective to fly. Those who yearn for a more romantic way of traveling may decide to take a train ride during the day to see the countryside or overnight and wake up at your destination after sleeping to the sound of train wheels on tracks and whistles in the night.
Thailand overland
Overlanders will find an excellent system of roads across Thailand which has probably the most advanced system of highways and by-ways in South East Asia. Traveling by road offers another element to traveling in Thailand in that it would be more flexible and offer the opportunity to stop along the route at points of interest such as beautiful scenery or one of a myriad of roadside sellers selling their fares.
Rustic Transport Variations
Local styles of travel also vary in Thailand and there is nothing better than to try something different at the 'grass roots' level to personally experience various forms of transport used by millions everyday across Asia. For example the simple ox cart performs many functions for local communities in days gone by such as taxi, truck or even as mobile advertising cart complete with battery operated loudspeakers. Elephant, buffalo and bamboo raft are other examples of forms of transport while the famous orange buses which meander the back roads across the country allow the traveler to come face to face with the people.
Traveling in Thailand has never been easier with all the local forms of transport combined with Destination Asia's excellent network of cars, mini vans and coach with experienced guides and drivers makes your travel a pleasure rather than a task.
DESTINATIONS IN THAILAND
Travellers to Thailand are presented with an amazing choice of destinations reflecting the diversity of its landscapes and built environments. The streets and lanes of every village, town and city in Thailand offer scenes of often incredible contrast between old and new, rich and poor modern and antique. Venturing along these streets and lanes to witness this contrast will often bring you within sight of a golden temple spire rising above the rooftops. To enter the grounds of the temple will lead you to world of glittering mirror mosaics and tinkling bells, an escape from the bustle outside.
Thailand's landscapes vary incredibly also with tropical islands surrounded by azure seas in the South, forested mountains in the North, fertile river plains in the heartland and the Isaan plateau to the Northeast. The land is like an artists canvas changing with the seasons. During the rainy season the whole country will be bathed in a blanket of green with rice fields being tended by farmers, rivers brimming with life and the sky often showing natures beauty.
Thailand's capital city Bangkok has become one of Asia's most dynamic and exciting places where modernity meets tradition in all aspects. It is a vibrant city which will leave its footprint in the mind of anyone who visits.
Further afield Thailand offers ancient cities such as Chiang Mai the ancient Lanna capital and now handicraft centre of Thailand which sits in a farming valley surrounded by forested mountains; Hua Hin a quiet seaside fishing village which has become a popular setting for holiday makers to visit the beach and eat fresh seafood, explore a national park or have a round of golf on one of several local international courses; Phuket island is the 'pearl of the Andaman' and is surrounded by some of Asia's most amazing scenery and the worlds best scuba diving sites; Samui Island offers a truly tropical scene with coconut palm lined beaches and at times the most calm azure seas to be found anywhere and for visitors seeking laid back rural lifestyles, Angkor period ruins or pre-historic relics, the famed North East of Thailand (Issan) is waiting to be discovered.
There is much more to Thailand for the slightly adventurous traveler willing to 'get off the beaten track' and see some of the unknown places that represent the real Thailand where daily life goes on behind the scenes.
: session_start(): Cannot send session cookie - headers already sent by (output started at /home/tatbooking/public_html/about-thailand.php:97) in
: session_start(): Cannot send session cache limiter - headers already sent (output started at /home/tatbooking/public_html/about-thailand.php:97) in